Posts for: October, 2015
By Ballenger Creek Dental Associates
October 29, 2015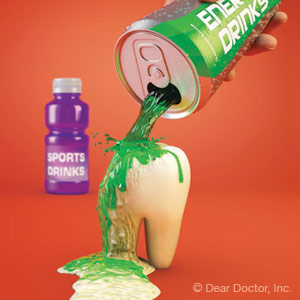 Tooth enamel erosion is a serious issue for many children that can result in permanent impairment of oral health. The problem isn't just bacterial acid that causes tooth decay — it's also the high acid content of sodas, energy and sports drinks widely popular among children and teenagers today.
Enamel is made of the strongest substance in the human body, which enables it to shield the inner layers of the teeth from disease and other environmental factors. Its chief nemesis, though, is acid: when enamel interacts with high concentrations of acid for a prolonged time, its mineral content will begin to soften and dissolve, a process known as de-mineralization. Saliva is the enamel's main protection against acid with the ability to neutralize (or buffer) acid and restore some of the enamel's mineral content, usually within thirty minutes to an hour after we eat.
The high acid content of many popular beverages, however, can overwhelm saliva's buffering ability, especially if a person is sipping for an extended time on an acidic drink. This kind of exposure is different from acid produced by bacteria that causes tooth decay: bacterial acid tends to concentrate in specific areas of the teeth, while the constant wash from acidic beverages will have a more generalized eroding effect on teeth.
This level of enamel loss is irreversible, which can leave a tooth in peril of decay and ultimate loss — and increase long-term dental care and costs. The best strategy is to have your child stop or significantly curtail drinking highly acidic beverages. Rather than drink sports beverages for hydration, substitute water, nature's hydrator. Milk can also be a viable beverage substitute.
If you do allow some acidic beverages, try to limit them to mealtimes and discourage extended sipping. Look for drinks with added calcium as this can reduce the beverage's erosive potential. The goal is to reduce the amount and duration beverage acid is in contact with tooth enamel.
Making these changes will help greatly to protect your child's tooth enamel, and give saliva a chance to do its job protecting it. Your efforts will also increase your child's chances of better dental health in the future.
If you would like more information on dental erosion, please contact us today to schedule an appointment for a consultation. You can also learn more about this topic by reading the Dear Doctor magazine article "Dental Erosion."
By Ballenger Creek Dental Associates
October 14, 2015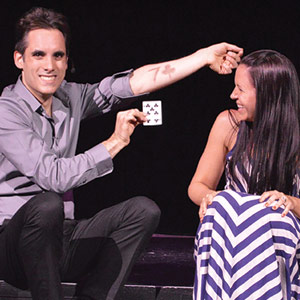 Magician Michael Grandinetti mystifies and astonishes audiences with his sleight of hand and mastery of illusion. But when he initially steps onto the stage, it's his smile that grabs the attention. "The first thing… that an audience notices is your smile; it's what really connects you as a person to them," Michael told an interviewer.
He attributes his audience-pleasing smile to several years of orthodontic treatment as a teenager to straighten misaligned teeth, plus a lifetime of good oral care. "I'm so thankful that I did it," he said about wearing orthodontic braces. "It was so beneficial. And… looking at the path I've chosen, it was life-changing."
Orthodontics — the dental subspecialty focused on treating malocclusions (literally "bad bites") — can indeed make life-changing improvements. Properly positioned teeth are integral to the aesthetics of any smile, and a smile that's pleasing to look at boosts confidence and self-esteem and makes a terrific first impression. Studies have even linked having an attractive smile with greater professional success.
There can also be functional benefits such as improved biting/chewing and speech, and reduced strain on jaw muscles and joints. Additionally, well-aligned teeth are easier to clean and less likely to trap food particles that can lead to decay.
The Science Behind the Magic
There are more options than ever for correcting bites, but all capitalize on the fact that teeth are suspended in individual jawbone sockets by elastic periodontal ligaments that enable them to move. Orthodontic appliances (commonly called braces or clear aligners) place light, controlled forces on teeth in a calculated fashion to move them into their new desired alignment.
The "gold standard" in orthodontic treatment remains the orthodontic band for posterior (back) teeth and the bonded bracket for front teeth. Thin, flexible wires threaded through the brackets create the light forces needed for repositioning. Traditionally the brackets have been made of metal, but for those concerned about the aesthetics, they can also be made out of a clear material. Lingual braces, which are bonded to the back of teeth instead of the front, are another less visible option. The most discrete appliance is the removable clear aligner, which consists of a progression of custom-made clear trays that reposition teeth incrementally.
How's that for a disappearing act?!
If you would like more information about orthodontic treatment please contact us or schedule an appointment for a consultation. You can also learn more about the subject by reading the Dear Doctor magazine article "The Magic of Orthodontics."