Posts for: April, 2016
By Ballenger Creek Dental Associates
April 27, 2016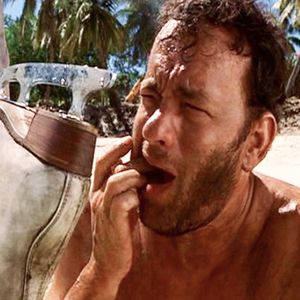 Did you see the move Cast Away starring Tom Hanks? If so, you probably remember the scene where Hanks, stranded on a remote island, knocks out his own abscessed tooth — with an ice skate, no less — to stop the pain. Recently, Dear Doctor TV interviewed Gary Archer, the dental technician who created that special effect and many others.
"They wanted to have an abscess above the tooth with all sorts of gunk and pus and stuff coming out of it," Archer explained. "I met with Tom and I took impressions [of his mouth] and we came up with this wonderful little piece. It just slipped over his own natural teeth." The actor could flick it out with his lower tooth when the time was right during the scene. It ended up looking so real that, as Archer said, "it was not for the easily squeamish!"
That's for sure. But neither is a real abscess, which is an infection that becomes sealed off beneath the gum line. An abscess may result from a trapped piece of food, uncontrolled periodontal (gum) disease, or even an infection deep inside a tooth that has spread to adjacent periodontal tissues. In any case, the condition can cause intense pain due to the pressure that builds up in the pus-filled sac. Prompt treatment is required to relieve the pain, keep the infection from spreading to other areas of the face (or even elsewhere in the body), and prevent tooth loss.
Treatment involves draining the abscess, which usually stops the pain immediately, and then controlling the infection and removing its cause. This may require antibiotics and any of several in-office dental procedures, including gum surgery, a root canal, or a tooth extraction. But if you do have a tooth that can't be saved, we promise we won't remove it with an ice skate!
The best way to prevent an abscess from forming in the first place is to practice conscientious oral hygiene. By brushing your teeth twice each day for two minutes, and flossing at least once a day, you will go a long way towards keeping harmful oral bacteria from thriving in your mouth.
If you have any questions about gum disease or abscesses, please contact us or schedule an appointment for a consultation. You can learn more by reading the Dear Doctor magazine articles "Periodontal (Gum) Abscesses" and "Confusing Tooth Pain."
By Ballenger Creek Dental Associates
April 12, 2016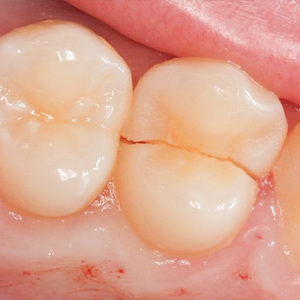 Teeth can take a lot of force over a lifetime of biting and chewing, thanks to enamel, their outer layer made of the strongest substance in the human body. Unfortunately, they're not invincible: it's even possible for you to break or "fracture" a tooth while biting or chewing normally.
Although such a fracture might seem to occur out of the blue, it's usually related to a condition known as cracked tooth syndrome. It usually occurs in three stages: in the first, miniscule cracks in the outer enamel known as craze lines develop. They're not immediately dangerous since they only involve the enamel surface; but left untreated they could deepen and progress to the next stage, a larger crack that penetrates the tooth's underlying dentin.
If allowed to grow, this crack in turn can lead to the third stage, a full fracture that could extend down to the root. A fracture can put the tooth in danger of loss, especially if its inner pulp becomes exposed. To avoid this worst case, it's best to treat the tooth at the earliest stage possible when craze lines are just developing.
There is a difficulty, though, with detecting craze lines — they're small, too small to detect normally with x-rays. We, therefore, rely on other methods such as using an instrument called an explorer to feel for cracks, having the patient bite on a stick or rubber pad to replicate pain symptoms or using fiber-optic lighting with special dye stains to highlight possible cracks. Endodontists, specialists in root canals, can use microscopic equipment that's quite adept at detecting craze lines.
There are also some signs you can be on alert for that might indicate a craze line or crack. If you feel a short, sharp pain — a "wince" — when chewing and releasing food, you could have a crack that hasn't yet affected the nerves. If a true fracture occurs, the pain will intensify and you may notice pieces of the tooth coming off. If the crack extends to the root, the pain will become greater and more chronic.
It's important then that you see us for any recurring pain symptoms as soon as possible. If it's a crack, the sooner it's treated the better your tooth's chances for survival.
If you would like more information on cracked tooth syndrome, please contact us or schedule an appointment for a consultation. You can also learn more about this topic by reading the Dear Doctor magazine article "Cracked Tooth Syndrome."