Posts for tag: nutrition
By Ballenger Creek Dental Associates
September 10, 2018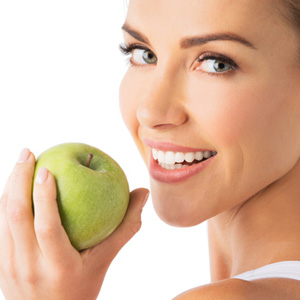 If you're brushing and flossing daily, as well as seeing your dentist at least every six months, you're doing the top things needed to maintain your dental health. But all your hygiene efforts could be undermined if you're not eating a dental-friendly diet. Simply put, there are foods that protect and promote dental health and those that increase your risk of dental disease.
Diets in the latter category are typically high in added sugar and low in natural food fiber. The largest sources of these are processed sugars from sugar cane or beets and high fructose corn syrup. With just a little knowledgeable label reading, you can find sugar and its various aliases added to thousands of processed food items including pastries, candies, sodas and energy drinks.
Heavy consumption of processed sugars also contributes to dental disease. Disease-causing bacteria thrive on sugar as a food source, which fuels both their growth and their production of oral acid. Elevated acid levels can dissolve the minerals in tooth enamel faster than saliva can keep up. Softened enamel opens the door to tooth decay, while increased bacterial growth can lead to periodontal (gum) disease.
A diet, however, low in added sugar and high in fiber can have the opposite effect. Although fresh fruits and vegetables contain natural sugars, they also have indigestible parts called fiber that slow the digestion of any sugars and allow the body to more efficiently process them.  With the higher quantity of vitamins and minerals found in unprocessed foods, the overall effect of this diet is a decrease in your risk for dental disease.
Speaking of dental-friendly foods, we should also give honorable mentions to certain dairy items like cheese and milk that stimulate saliva production and are rich in calcium needed for tooth strength. Another beneficial category is both black and green tea, which contain antioxidants to fight disease and fluoride to strengthen enamel.
Adopting a low-sugar/high-fiber diet can have a profound impact on your overall health. Over time, you'll also reap dental health rewards with stronger teeth and gums and a lower risk of tooth decay and gum disease.
If you would like more information on diet and oral health, please contact us or schedule an appointment for a consultation. You can also learn more about this topic by reading the Dear Doctor magazine article "Nutrition & Oral Health."
By Ballenger Creek Dental Associates
December 19, 2014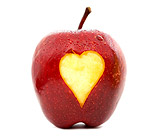 Your general and oral health go hand in hand — whatever is going on with the rest of your body can also affect your teeth, gums and other mouth tissues. That's why it's essential that you eat a diet with the right balance of healthy foods, while cutting back on unhealthy ones that contribute to tooth decay and other health issues.
When we refer to healthy foods, we mean foods with high nutritional value. These kinds of foods provide nutrients (carbohydrates, proteins, fats, vitamins, minerals and water) that build strong bodies (including teeth and gums), fight disease and help our bodies maintain good function on the cellular level.
A healthy diet has three components: variety, eating several different kinds of foods with a wide range of nutrients; balance, eating a proper portion from different food groups; and moderation, eating portions that are enough to meet energy needs and cellular health while not overindulging. It's important to remember that excess carbohydrates, proteins and fats are stored as body fat, which has an impact on a healthy weight.
In addition, you should also bear in mind how certain foods can have a direct effect on your teeth and gums. Foods with added sugars (such as refined sugar or corn syrup) and starches are a rich food source for decay-causing bacteria; naturally occurring sugars found in fresh fruits, vegetables and dairy products are not as great a threat. In this regard, the best approach is to decrease the amount of processed foods in your diet, while increasing your intake of whole foods.
You can also help deter tooth decay with certain foods. Eating cheese after a sweet snack helps prevent an increase in the mouth's acidic level, a contributing factor in tooth decay. Eating plant foods that require chewing stimulates saliva, which also helps prevent a rise in the acidic level.
Proper nutrition is a key component in maintaining overall good health. It's just as important for keeping your teeth and gums healthy and functioning.
If you would like more information on nutrition and the part it plays with your oral health, please contact us or schedule an appointment for a consultation. You can also learn more about this topic by reading the Dear Doctor magazine article "Nutrition: Its Role in General and Oral Health."
By Ballenger Creek Dental Associates
August 01, 2014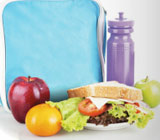 There's a new focus on children's nutrition by both parents and schools; in fact, many school districts have instituted policies that encourage children to eat more nutritional foods and snacks. Regarding snacks in particular, the United States Department of Agriculture (USDA) recently released new regulations for the Smart Snacks in Schools Initiative that call for more whole grains, fruits and vegetables and less fat, sugar and salt in snack foods.
These regulations will help fight obesity and related medical problems like diabetes, but many dentists don't believe they go far enough in one particular area — the consumption of sugar, a major cause of tooth decay. Dentists also feel the guidelines are too generous in the amount allowed for highly acidic beverages like sodas, ice tea, sports drinks and energy drinks that increase the risk of enamel erosion and tooth decay.
You may also be concerned about how much sugar your child is eating, and for the most part you're able to manage their intake when they're at home. But what can you do to influence their snack choices and habits when they're at school?
For one thing, get involved with your child's school and with other parents. Let school officials know your concerns about the sugar, fat and salt content of the snacks offered in the school's vending machines and food service, and work to implement policies that discourage less nutritional snack foods. You should also set limits for your children about what snacks they can buy at school — along with explaining why they should avoid certain kinds of snack foods in favor of others. And, be sure to send healthy snacks along with them when they go to school that are bite-sized and fun.
It's also important to help your children limit how often they snack and avoid "grazing" — nibbling on snack food for hours on end. Grazing can cause the mouth to be continuously acidic and never allow saliva an opportunity to neutralize the acid. You can also suggest similar policies to school officials, such as shutting down vending machines at certain times of the day.
Nutrition is essential to good health, in the mouth as well as the rest of the body. As a parent, it's your job to see that your children eat nutritiously — enlisting their schoolâ??s help will make that job a little easier.
If you would like more information on dental-friendly snacking, please contact us or schedule an appointment for a consultation. You can also learn more about this topic by reading the Dear Doctor magazine article "Snacking at School."